If you're on a tight budget but want to get good results then you're going to love this technique for obtaining free dofollow backlinks from high authority websites.
All of these links can be pointed directly to your money site and then indexed and powered up using the additional techniques below.
To see the comprehensive list of free dofollow backlinks scroll to the bottom of this article.
Getting Started
Pick 10 of the websites from the list and create appropriate content, not forgetting your all important link. If you are struggling to create profiles with unique content then use a decent article spinner such as WordAi. Quickly manually check each article and rewrite where necessary to ensure the content makes sense.
Now to juice up those links…
Power up and Index Your Free Backlinks with Cheap Links
To get these authority backlinks indexed and give them a power boost follow as many of these steps as your budget allows:
Free
The best way to generate free backlinks to these profiles is to use an automated tool such as Ultimate Demon, GSA or ScrapeBox . There is a great guide here by Matthew Woodward on how to use Ultimate Demon to get links on autopilot.
If you don't have any of these tools at your disposal, then I would recommend building some manual blog comments. Search for blogs in your niche using Google and comment on them supplying backlinks to your profiles.
There are also lists of websites that allow dofollow comments to give your tier one profile links that extra bit of power; just Google "list of dofollow blog commenting sites" to find these.
Dirt Cheap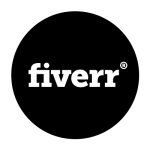 There are very few Fiverr gigs that I would point directly at my money site however there are plenty out there that are perfect for pointing at sites with high authority.
If your budget permits use a Fiverr gig per profile page, however if you are really on a tight budget then find a gig that enables you to use multiple URLs.
Total spend
$5 – one gig for all profiles
$50 – one gig per profile
My Personal Favourite Solution – Very Cheap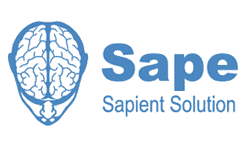 This is my personal favourite technique that you can use to rocket boost the power of your dofollow profile links. You will need ScrapeBox, Majestic/BlackHat.Community subscription for this method, if you haven't already got these I STRONGLY recommend you get your hands on them as they are essential SEO tools!
Head over to Sape.ru and use the filter to pick out the really cheap domains (Making sure that Google index filter is selected). I would suggest picking out links that are less than 10 rubles ($0.18/£0.12) there are even some links on there for less than 5 rubles!
The only other filters I use for these purposes are to display urls that have been live for 90 days or more and then display only home page links. I then select to display 5000 results and start searching.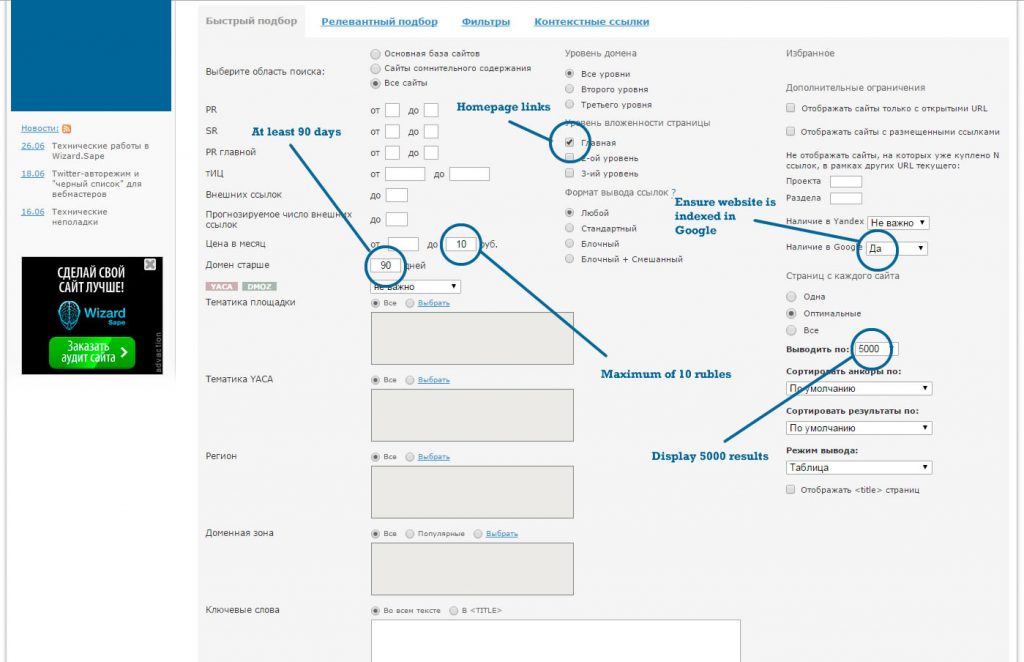 Once the search is complete hit ctrl + A (or right click and click "Select all") to highlight all of the results, then copy them and import them into ScrapeBox; this will filter out the urls from the rest of the text on the page.
Export the list of links from ScrapeBox to the clipboard and then import them into the Majestic bulk check tool. Alternatively use the very handy tool that BlackHat.Community have in their incredible arsenal.
Download the spreadsheet of results and sort by referring domains (don't worry too much about TF). Point 10+ of these at each high DA free dofollow link.
This should cost you no more than $10 – $20 a month (maybe even less) to have 10 supercharged high authority links pointing at your money site that you have complete control over.
Total Spend
Less than $20 a month
P.S. These aren't hard and fast rules, feel free to use your own settings and find what works for you and your budget.
Extra Boost (Free if You've Got a PBN Already)
If you are in the fortunate position to have a good size PBN with a few link slots available then point a few PBNs at each of these profiles. I would go for your less powerful PBNs as your higher quality ones should be reserved solely for being pointed at your money site!
Conclusion
If you were to implement all of the steps above you will now have 10 free dofollow links pointing at your website from authority websites powered up to the max with an initial outlay of just $50 and a recurring $10-$20 a month rental fee on Sape.
Alternatively if you only followed the first step you will have these links for free although obviously they won't be quite as powerful!
Cheers for reading guys, let me know what you think of my first ever post in the comments below!
List of Free Dofollow Backlinks
I haven't been through and manually checked every single one of these in a long time, so please let me know if any of these websites no longer offer the opportunity to upload content or don't offer dofollow links.
Websites are arranged in Majestic TF order. Stats correct as of 3rd July 2015.
Links I have Personally Used
This is a list of websites that I have personally used in the past:
| URL | CF | TF | RD |
| --- | --- | --- | --- |
| wordpress.org | 92 | 97 | 3018412 |
| Tumblr.com | 94 | 91 | 1941184 |
| xing.com | 72 | 87 | 241199 |
| Blogger.com | 78 | 86 | 800478 |
| Behance.net | 74 | 83 | 235619 |
| livejournal.com | 68 | 83 | 119203 |
| last.fm | 76 | 82 | 155571 |
| delicious.com | 73 | 78 | 324458 |
| justgiving.com | 62 | 75 | 77903 |
| Storify.com | 58 | 62 | 171668 |
| tigweb.org | 57 | 61 | 1174 |
| RebelMouse.com | 68 | 57 | 111105 |
| About.me | 53 | 53 | 185056 |
| wikidweb.com | 35 | 47 | 469 |
| about.us | 37 | 41 | 85 |
| rateitall.com | 51 | 36 | 10190 |
| thisnext.com | 51 | 33 | 1651 |
| intensedebate.com | 47 | 32 | 2786 |
| conceptfeedback.com | 39 | 25 | 900 |
| LookUpPage.com | 53 | 24 | 14554 |
Some More Potential Targets
This is a list of websites that I have gathered either from using them a long, long time ago or through research and never got round to using them:
| URL | CF | TF | RD |
| --- | --- | --- | --- |
| technorati.com | 63 | 86 | 17178 |
| disqus.com | 81 | 85 | 131769 |
| ted.com | 73 | 85 | 336492 |
| reddit.com | 73 | 84 | 448203 |
| en.gravatar.com | 73 | 84 | 25309 |
| weebly.com | 68 | 83 | 1172707 |
| angelfire.lycos.com | 66 | 82 | 2882 |
| BraveNet.com | 70 | 82 | 35911 |
| scribd.com | 70 | 82 | 337718 |
| tripod.lycos.com | 73 | 81 | 6057 |
| Tripod.com | 52 | 81 | 402617 |
| dpreview.com | 67 | 81 | 63392 |
| wix.com | 72 | 80 | 703961 |
| openstreetmap.org | 65 | 80 | 77970 |
| angelfire.com | 59 | 79 | 178681 |
| salon.com | 69 | 78 | 118695 |
| sfgate.com | 67 | 78 | 170442 |
| ckeditor.com | 59 | 78 | 7630 |
| zoho.com | 59 | 77 | 20513 |
| typepad.com | 59 | 76 | 443403 |
| ning.com | 62 | 73 | 253967 |
| twitpic.com | 60 | 73 | 8626 |
| friendfeed.com | 51 | 72 | 119499 |
| moz.com | 62 | 71 | 37930 |
| bleacherreport.com | 64 | 70 | 7059 |
| netbeans.org | 47 | 70 | 22995 |
| webs.com | 53 | 69 | 527871 |
| propellerheads.se | 55 | 69 | 8741 |
| gather.com | 56 | 68 | 984 |
| sbnation.com | 73 | 68 | 40311 |
| bookcrossing.com | 51 | 67 | 9102 |
| rediff.com | 59 | 66 | 6784 |
| chronicle.com | 51 | 66 | 52204 |
| folkd.com | 54 | 65 | 7468 |
| sosmath.com | 51 | 65 | 4308 |
| moonfruit.com | 46 | 64 | 107832 |
| anobii.com | 57 | 64 | 18243 |
| actian.com | 55 | 64 | 1142 |
| WikiSpaces.com | 47 | 63 | 122113 |
| ucoz.com | 66 | 62 | 7245 |
| jimdo.com | 56 | 61 | 470944 |
| wikidot.com | 54 | 61 | 103204 |
| thelocal.se | 56 | 61 | 26901 |
| getsatisfaction.com | 50 | 60 | 28519 |
| crowdspring.com | 46 | 60 | 2926 |
| webspawner.com | 49 | 59 | 16449 |
| my.opera.com | 41 | 57 | 2369 |
| dailykos.com | 53 | 57 | 9338 |
| travelblog.org | 49 | 54 | 1548 |
| coffeegeek.com | 39 | 54 | 1332 |
| 500px.com | 59 | 53 | 120418 |
| forums.delphiforums.com | 48 | 53 | 7487 |
| support.addthis.com | 56 | 53 | 498 |
| aprelium.com | 50 | 53 | 4492 |
| diigo.com | 60 | 52 | 68896 |
| yola.com | 62 | 52 | 26200 |
| kabissa.org | 47 | 52 | 1887 |
| posterous.com | 55 | 51 | 2582 |
| blogdrive.com | 39 | 51 | 634 |
| webnode.com | 51 | 50 | 193273 |
| thoughts.com | 39 | 49 | 908 |
| tripit.com | 49 | 49 | 4828 |
| dailystrength.org | 53 | 48 | 8757 |
| merchantcircle.com | 48 | 47 | 2996 |
| hubpages.com | 66 | 47 | 4768 |
| newstrust.net | 36 | 47 | 484 |
| podomatic.com | 41 | 47 | 54802 |
| blog.de | 47 | 46 | 1185 |
| snappages.com | 49 | 46 | 1037 |
| blog.com | 72 | 44 | 305434 |
| squidoo.com | 55 | 44 | 176944 |
| schoolofeverything.com | 43 | 44 | 589 |
| virtualskipper.com | 32 | 44 | 328 |
| artician.com | 44 | 44 | 329 |
| zimbio.com | 54 | 43 | 5785 |
| everytrail.com | 50 | 43 | 3845 |
| 30boxes.com | 62 | 43 | 1193 |
| citeulike.org | 48 | 42 | 12067 |
| xanga.com | 47 | 42 | 6147 |
| visual.ly | 53 | 42 | 11465 |
| multiply.com | 44 | 40 | 1955 |
| freewha.com | 56 | 40 | 356 |
| wetpaint.com | 50 | 38 | 3760 |
| oooforum.org | 47 | 38 | 4244 |
| docstoc.com | 66 | 37 | 89772 |
| jazz.net | 34 | 37 | 1652 |
| asthmacommunitynetwork.org | 35 | 37 | 98 |
| 8tracks.com | 52 | 36 | 8246 |
| blog.co.uk | 43 | 35 | 528 |
| edublogs.org | 41 | 34 | 118099 |
| Webstarts.com | 45 | 34 | 85947 |
| mgl.scripps.edu | 32 | 33 | 131 |
| forum.parallels.com | 47 | 32 | 2689 |
| officelive.com | 33 | 31 | 34232 |
| blogsome.com | 35 | 31 | 1207 |
| BrandYourself.com | 36 | 28 | 14579 |
| photopeach.com | 41 | 28 | 1320 |
| quizilla.teennick.com | 50 | 27 | 22523 |
| journalspace.com | 36 | 25 | 607 |
| forum.audacityteam.org | 36 | 25 | 243 |
| wayofthepixel.net | 39 | 25 | 868 |
| unilang.org | 33 | 24 | 441 |
| today.net | 16 | 21 | 7 |
| springnote.com | 38 | 21 | 6590 |
| forum.suprbay.org | 38 | 20 | 1090 |
| visualising.org | 41 | 17 | 910 |
| forums.spry.com | 39 | 17 | 1563 |
| boards.trutv.com | 36 | 17 | 473 |
| forums.otterhub.org | 28 | 16 | 70 |